If you recognise the importance of successfully balancing a relationship you love with your personal career ambitions – you're in the right place. (Special Valentine's weekend offer)
Have you ever felt like you're being pulled in different directions?
Do you sometimes feel like you're sleepwalking through your career and not actively heading in the desired direction?
Have you ever wondered whether pursuing your own dreams is 'selfish' when balancing a relationship and a family?
Are you sometimes a bit unsure about how to effectively set your varying goals and see them through from start to finish?
you know that better communication with your other half will make both of your goals feel more manageable – and would therefore like to learn some tricks to make communication much easier?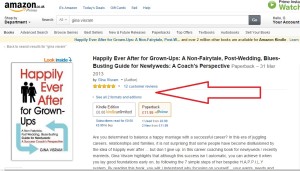 If you resonate with the above, I am so happy you're here! Stop for a moment… take a breath and recognise that so many of us have been exactly where you are. Good news is that there is a clear route to take you from where you are now to where you want to be… and the difference between you and others who are struggling with similar dilemmas is that you have chosen to take action!
It's okay to feel overwhelmed sometimes… as long as, like you, you start to see it and take the necessary steps closer to your goals.
If you're anything like me – you didn't stumble onto the perfect career (or the perfect partner!) for you straight away. You're hard working, you have goals (although sometimes it may feel you're not getting there as fast as you'd like!) and you are determined to balance your career ambitions with your relationship and family life.
So… how can you make that happen?
While I don't have a magic wand, I do have an effective and simple 7 step H.A.P.P.I.L.Y system that works. It is detailed in my new book and when you sign up via this form, you'll gain access to an upcoming webinar / q&a about the system and gain access to Happily Ever After for Grown-Ups on Kindle (which is actually available FREE on Valentine's day weekend 2015).
We'll never share your details and by signing up to this FREE mailing list, you will get on track to:
Banish the vague, fairytale notion of "Happily Ever After" and make your reality jump off the page instead! If recently married, this process is a catalyst for chasing away those post-wedding blues!
Feel more in control of the juggling act that life can sometimes be
Join a community of like-minded people who know they can have it all (on their own terms!) but recognise they need to put in some essential work to get there
Be the first to hear about group workshops, teleseminars/webinars and one on one coaching programme opportunities… designed to accelerate your journey towards achieving your goals
I wrote this book because even having journeyed through a career at interesting organisations including CNBC, the BBC and more, a big turning point in my life was around the time of my engagement and marriage – as I really paid attention to my career, my relationship and what I really wanted. Your realisation and 'action' moment may happen at a different time in your life.
It may be now.
Stop going around in circles. SIGN UP here to head straight towards the dynamic yet balanced life that works for you and to gain access to your copy of the book.

Some reader testimonials
Great book! Very well written, funny, it just reads like a breeze! Gina knows her stuff and gives sound, practical advice and all the steps to follow to get there. A must-read for all new brides!
Florence Parot, Sophrologist & Director of Athena Central London
A die hide know-it-all, I wasn't sure whether I would benefit from this motivational book. But within the first 3 chapters I had read so much sense written in a clear, concise manner that I couldn't help but be inspired. I already have the tools to achieve my goals but this book is helping me to identify them and use them more efficiently.
Sometimes we know what we need to do, but it always helps to have a little guide to point us in the right direction.
I am not a newlywed, nor in a relationship, but there is still much for me to gain from this well written, warm-hearted, engaging book.
Sonia Poleon, business owner and radio presenter, London
About The Author
"The key to unlock the success that's within you", Gina Visram is an author, work life balance advocate and career coach, who, as part of her Limitless Coaching initiative, enjoys working with career driven women (and a few awesome men) who are in relationships with career driven other halves (and vice versa) – and are seeking to make the most of their talents by making clear career development decisions that are right for them and the lifestyles they want to lead.
Author of "Happily Ever After for Grown-Ups", a career coaching book for couples, Gina is passionate about helping busy couples 'achieve more together' by becoming each other's biggest cheerleaders. Why? Because when we are lucky enough to have found our perfect partner, it would be silly (cray cray!) of us not to partner up to kick a** in succeeding with individual and shared career and lifestyle goals.